Diagnostic Lab
---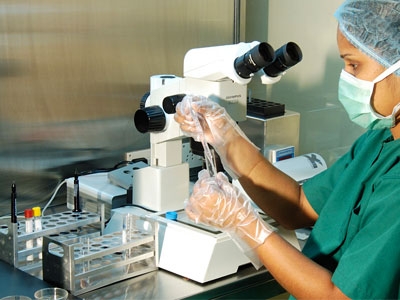 We, at KARE CENTRE, had made it a point to achieve perfection and efficiency in our treatment. This is the reason why we have state-of-the-art facilities that will ensure our patients will be diagnosed and treated properly.
We have a set of diagnostic methods in our diagnostic lab to detect the problems of your reproductive system. The modern equipment and devices in our lab will give the best results.
Female Infertility Factors
A woman is usually considered infertile if she has been trying to get pregnant for at least a year or 6 months if she is over 35 years. Multiple miscarriages can also be a consideration for being infertile. Some of the reasons for infertility in women include age, physical problems, hormone imbalances or issues, lifestyle, and environmental factors.

Testing and Evaluating Female Fertility
Some of the tests available in our diagnostic lab include.
BBT charts determine when the woman's ovulation will occur. Some information that they provide can also help in determining the possible existence of ovulation dysfunction.
Ultrasonography test uses sound waves to analyze the condition of the uterus, ovaries, endometrium, and ovarian follicles.
Estradiol Test: Higher levels of estradiol, a hormone produced by the ovary, can also be an indicator of any ovulation problems. This test is usually conducted 2 to 4 days of the menstrual cycle.
Ultrasound scan can help in checking for small follicles that can be present within the ovaries indicating a decreased ovarian reserve. If there are less than 8 small follicles and the ovaries are smaller than 3ml in volume then it is an indication of decreased ovarian reserve.
Laparoscopy: is a minimally invasive surgical procedure that uses a thin tube with a camera at one end to examine the uterus, fallopian tubes, ovaries, and pelvic surfaces. It can help in determining if the ovulation has occurred successfully or not, making it a reliable diagnostic method to assess the state of a woman's fertility.
Sonohysterography: uses an ultrasound machine to check for abnormalities like scar tissue, fibroids or polyps inside of the uterus. It can also detect any abnormalities within the pelvic region known to be associated with infertility.
MRI Scans can help to discover lesions or any other issues inside the pelvis and uterus.
STD tests help the doctor to check for the presence of HIV1, Hepatitis B and C, Syphilis, Chlamydia, and Gonorrhea.
Semen Analysis, obtained from the male partner, is an essential part of the infertility evaluation. It can provide data that include the number, movement, and shape of the sperm. It is also necessary even if the male partner has fathered a child before.
Ovarian Reserve Testing helps in determining the quality and quantity of eggs that are available for ovulation. Women patients who are at risk of a depleted egg supply may have to undergo this series of blood and imaging tests.
Genetic Testing helps in determining the presence of a genetic defect that can cause infertility.
Other Hormone Tests help in checking for the levels of ovulatory hormones as well as thyroid and pituitary hormones that control the different reproductive processes.